Air Conditioner Replacement & Air Conditioning Installation

White Oak, OH, Bridgetown, OH, Kenwood, OH, Blue Ash, OH, Montgomery, OH & Monfort Heights, OH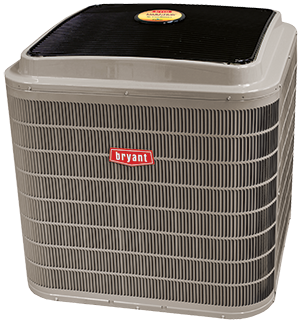 At Schibi Heating and Cooling, we exceed expectations in the Cincinnati Metro area.  We combine decades of collective, comprehensive knowledge and experience to deliver greater satisfaction and value from cooling system installation.  By continuing to enhance our product line and educate our NATE-certified staff with the latest technological advancements, we ensure the right answer to your specific needs.  As a Bryant Factory Authorized Dealer, our team specializes in a line of industry-leading, Energy Star rated, and proven air conditioners which offer superior comfort and energy savings through features such as WiFi connectivity, zoned control, and adaptable speed.
Professional A/C Installation Service
Proud of our heritage and our present commitment to serving our clients, Schibi Heating and Cooling completes every step of the installation process to exacting standards, and with no unnecessary delays.  Through proper sizing and implementation, we ensure peak energy efficiency, dependability, cooling capacity, air quality, dehumidification and sound levels from your new cooling system.
Air Conditioner Installation Madeira, OH | Air Conditioner Replacement Monfort Heights, OH | Air Conditioning Replacement Montgomery, OH
Keep cool with an air conditioner installation from Schibi Heating and Cooling!
Whether you're installing new, updating old, or involved in a remodeling project, our expertise answers any demand and extends to both traditional and ductless cooling equipment. For the past 86 years, Schibi Heating and Cooling has maintained the highest degree of service, honesty, and ethical business practices, protecting the best interests of our residential and commercial customers across White Oak, Monfort Heights, Bridgetown, Delhi Township, Springdale, Sharonville, Madeira, Kenwood & Blue Ash, OH & the Tri-State area.
A/C Installation

∴

Air Conditioning Replacement

∴

Air Conditioner Installation ∴ Delhi Township, OH ∴ Montgomery, OH ∴ Kenwood, OH
A/C Installation

∴

Air Conditioner Installation

∴

Air Conditioning Replacement ∴ Delhi Township, OH ∴ Kenwood, OH ∴ Blue Ash, OH

Schibi Heating and Cooling

March 23, 2017

2023/09/29